Thanks for ordering your FREE copy of
Click here to download your free copy.
---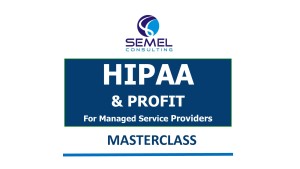 HIPAA & PROFIT Masterclass for Managed Service Providers
Includes 6 hours of on-demand classes -
FOR YOUR ENTIRE COMPANY -
plus tons of HIPAA templates, checklists, and reference materials
ONLY $ 999
The ABSOLUTE BEST training an MSP needs to build an internal compliance program and sell more services!
"This course was a great investment. The time we will save in policy development and research will pay for the class many times over." -- Michael Williams, Winxnet, Portland, ME
"This was by far one of the most comprehensive, yet easy to understand training seminars I've attended. You also had fantastic answers to questions I've had for years concerning my responsibilities as a Business Associate." -- Angel Rojas, Datacorps, Brandon, FL
"Great presentation today and that probably has to be the best money I've spent on any education since I started doing this. You really know your stuff and how to teach it too." -- Eric Rieger, WEBIT Services, Inc., Aurora, IL
"We've been spending so much time trying to weed through what all of this means for us as a corporation and our clients, your service seems like an oasis on a desert." -- Sal Sciandra, SK Technology Group, Inc., Pittston, PA
Click here for more info.
Click here to order.