Mike Semel Named TWICE to EMR & HIPAA Top 2016 Blog Posts

Dec 30, 2016 01:58 pm | By: John Lynn
At the end of each year, it's fun to pull up the stats and see which blog posts were the most popular blog posts and pages on EMR and HIPAA. What's shocking to me is how many older posts on EMR and HIPAA are still generating a ton of traffic. Here's a look at the top 10 blog posts and a bit of commentary on each.
Don't Blame HIPAA: It Didn't Require Orlando Regional Medical Center To Call the President
– This was a great reality check from Mike Semel on the salacious news that the President had got involved in the HIPAA issues related to the Orlando shootings.  Mike did this a number of times in 2016, so check out all his HIPAA blog posts.
HIPAA Cloud Bursts: New Guidance Proves Cloud Services Are Business Associates
– Another great example of Mike Semel dropping HIPAA knowledge bombs.  It's no surprise that his posts are on this list multiple times.
---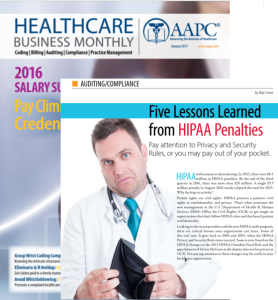 Five Lessons Learned From HIPAA Penalties  by Mike Semel
Healthcare Business Monthly - January, 2017

---

Mike Semel's Journal of Health Care Compliance Cover Story April 2016:
  Security & Compliance are Executive Responsibilities

Reprinted from Journal of Health Care Compliance, Volume 18, Number 2, March–April 2016, pages 17–21, with permission from CCH and Wolters Kluwer. To subscribe click here.