Solar batteries to charge your phone… laptop…medical devices… or run a full-size fridge, freezer, or washer/dryer during a power outage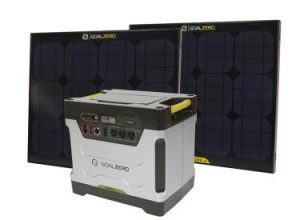 At the recent Consumer Electronics Show, I saw new innovative charging and backup battery products from many companies. Some were incorporated into form-fitting cases for smart phones and tablets. Some were external chargers/standby batteries you could share between several devices. Most interesting were solar devices that ranged from pocket-sized for phones; to mid-size for laptops, cameras, and medical devices; to the size of a small gasoline generator, that can power a large appliances – indoors—safely, with no noise or dangerous fumes. Or fuel cost, since the sun is free.
After Superstorm Sandy, residents of New Jersey, New York, and Connecticut learned what it was like to go without power for days or weeks. Gas stations were closed, gas cans were unavailable or not adequate to keep a generator running, but the sun continued to shine and could have been the source of power with the right equipment.  Recent news reports about vulnerabilities to our power grid from hackers make you wonder if the next large power outage will be from a cyber-attack instead of another storm.
Goal Zero has a wide range of solar products to fit your power-hungry needs, and you can probably find them at a store near you.  Their small kit powers a phone or rechargeable AA and AAA batteries, and can be charged by the sun or from your car. They offer a choice of Sherpa 'medium' chargers that range from lightweight to a faster charger that includes a standard AC outlet. Finally, their large systems can power televisions, refrigerators, freezers, washers, and dryers. Order online or look for Goal Zero solar products at Sports Chalet, Cabelas, Sports Authority, Wholesale Sports, Sportsman's Warehouse, Bass Pro Shops, Eastern Mountain Sports, Emergency Essentials, REI, HTO, Gander Mountain, Target, Best Buy and Lowes.
 ---------------
Mike Semel is a Certified Business Continuity Professional who has created disaster plans that have helped organizations survive Superstorm Sandy, the Joplin tornado, Hurricane Irene, and many smaller disruptions you never heard about.  More at www.semelconsulting.com.